It was bound to happen. I joined the online sewing community to be inspired and have fun with swaps and sewing and quilt alongs, so of course, it was only a matter of time before I would fall in love with the
Scrappy Trip Along
. Of course, since I wasn't actually doing much blog reading or sewing in the very beginning of the year, I found out about this because of my dear friend,
Emily
... so I can really blame her for the lack of recent sleep as I work on these blocks!
It all started with this cute Laurie Wisburn fabric: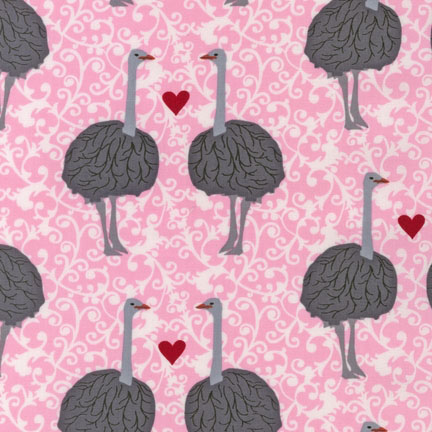 image from Robert Kaufman fabrics
I'm normally a bright, use-all-colors-of-the-rainbow type of gal, so it felt a little funny when I thought that my color scheme should be a mix of pinks, reds, greys and blacks. But I wanted to make baby girl a little Valentine's quilt (big brother got a
special quilty gift
for his first Valentine's Day, so she should too!) and I really wanted to use this cute ostrich fabric! That said, I don't even have that much red or pink in my fabric stash... or so I thought. :)
Pulling strictly from my stash, I found I was able to come up with 60 different fabrics. I chose 60 because I want to make a lap-sized quilt and
Brenda
did all the math for me! I need 180 strips to make this size! (and to be most efficient when cutting from my yardage, that worked out to about 3 strips from each of my fabrics).
I started with one test block because I was a bit worried that this might not look great.
I liked it well enough to continue. I made a texty block too.
The others are pretty random and I have 7 made so far, with my remaining 23 to go all stripped together. I now need to make them into tubes. I'm making these assembly line style (did all the cutting over the weekend, chain pieced the strips for a number of blocks, and then tubed them and made the final block). If you are working on this, how are you approaching your piecing?
Although these colors are a bit out of the norm for me, I'm loving this quilt so far! And I'm planning on laying them out in this pattern, as I've seen a few others on Flickr do.
Linking up to
WIP Wednesday
, where I'm sure I'll find a few scrappy trip quilts and other fun inspiration!